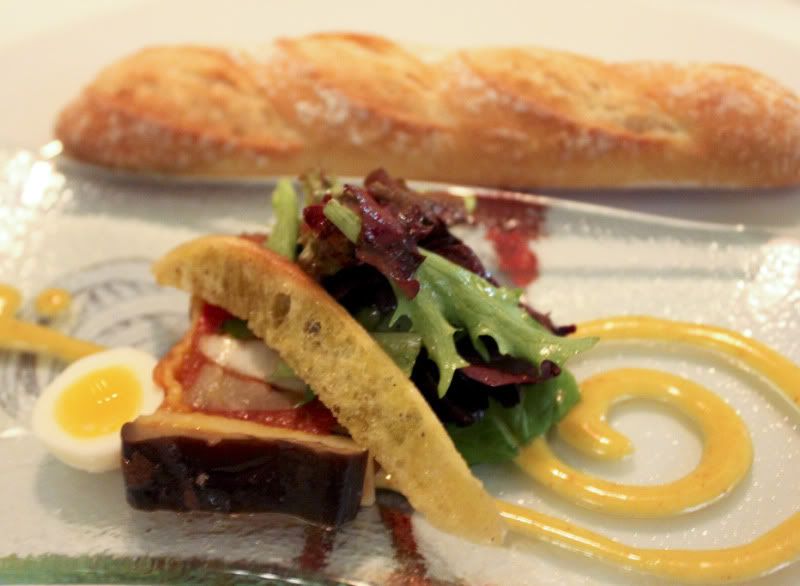 When Houston thinks of a November weekend getaway or a fine French meal, Conroe isn't the first place that comes to mind. Lakeside activities don't quite go hand-in-hand with 40 degree temperatures, but we also know that the weather is apt to change from hour to hour, the sun might come out, and it might very well be lakeside weather the next day if not sooner.
However there is one thing that will always be welcomed in any weather: A hot tub.
Last weekend, my friend Maria and I escaped for the night to La Torretta Lake Resort and Spa in Conroe, Texas. We dined at the resort's own Chez Roux, a French restaurant founded by Chef Albert Roux, the man behind La Gavroche, which earned Britain's very first Michelin rating, and three stars, at that. I was excited to try a meal fashioned by one of the world's most renowned chefs, who happened to be in town tending the restaurant. Many people wonder why on earth he would choose Conroe as his first American venture, and the answer is as simple as it should be. His friend is the main investor of resort and that's what friends are for, right?
I really hoped to meet Chef Roux, but even more so, I was hoping that he would serve his signature Soufflé Suissesse. And as invariably there would be plenty of wine flowing and we are responsible drinkers, we decided to stay overnight. After all, the website boasted of a hot tub and we had big plans for that hot tub as soon as dinner was a wrap.
Chez Roux's exterior is unassuming, but inside it hosts an intimate dining room with cozy booths, linen clothed tables, and a glassed-in wine room filled floor to ceiling with bottles from around the world. A panoramic window overlooking the head chef Michael Gray's kitchen allowed us to observe the various cooks working tenaciously at their stations on our prix-fixe dinners. Gray is the only Michelin rated chef in Texas and we were anxious to see and taste his fare. Suddenly Chef Roux walked out of the kitchen. Wearing his chef whites, he greeted each table, leaning a little on a cane for support. As he approached our table, I tried to think of something clever or adoring to say, but he spoke first.
"I suggest you try the soufflé. It's a bowl of cholesterol."
I laughed and joked that it would drink all of the wine, as rich foods tend to dampen the effects of alcohol. I was happy to have met him and I knew then that I would have my soufflé.
But first, champagne, a glass of Chef Roux's own Blanc-de-Blanc, or blankity-blank bubbly as I find my inner punstress calling it, and along with it a beautiful amuse bouche of a fish terrine with a quail egg. I have to mention that the bread basket contained the freshest mini-baguette, a perfect junior version of a full sized loaf of French bread. I ate two. Or three. The soufflé was served next and to my amusement, it was 'Texa-fied" with Texas Gold Cheddar and corn kernel cream. The original version is even simpler, and it's basically a soufflé floating in a bowl of hot cream, topped with Gruyere before being given one final heating in the oven. I don't count calories when I'm eating French food and you shouldn't either.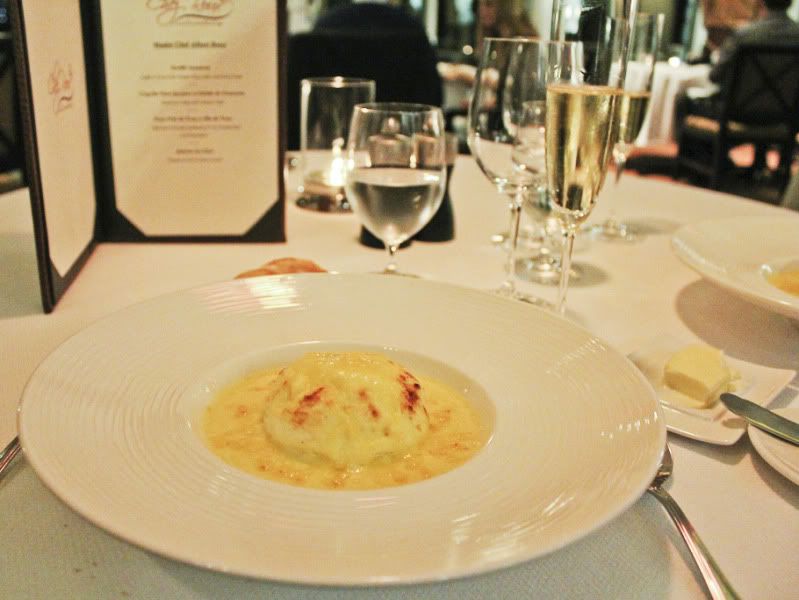 The Coquille Saint-Jacques et Salade de Couscous followed the soufflé. The French call scallops 'shellfish of Saint James' because the apostle was to have rescued a knight covered in their shells. At Chez Roux, the scallops are perfectly seared and served over a 'salad' of diced carrots and zucchini tossed with pearl couscous with accents of chorizo. Garret, the sommelier, poured us a glass of Duet Viogner-Chardonnay from Burgundy, which was light and refreshing and cut through the saltiness of the chorizo.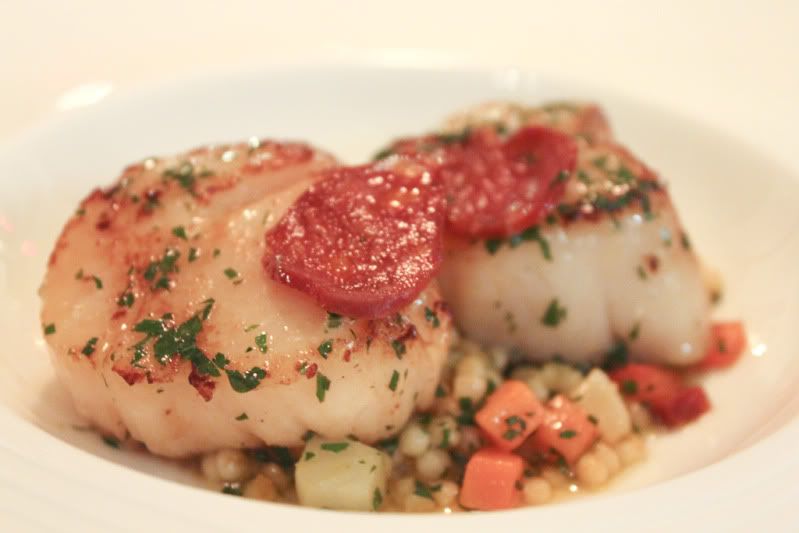 Next up we were served a veal loin and my first sweetbreads, along with a glass of Belle Valle Pinot Noir, the best wine of the evening, only because it was a red, and I'm a red girl. While I don't usually eat veal because it comes from poor baby cows, I did so to honor the chef. It was flavorful but tough for something so innocent. The sweetbreads, if you like them, were cooked to where there was a bit of resistance at first and then the follow through was as soft as the scallops. I will try anything once in the name of food and knowing that Chef Roux knows just how organ meats should be prepared to maximize their flavor and highlight their textures, I can say with near certainty that I won't be trying them again if I can avoid it. I just don't like sweetbreads.
As if to whisk away any unpleasant memory of the previous course, dessert arrived- five diminutive desserts to be exact. They ranged from brulee to gelato and each was as good and adorable as the last.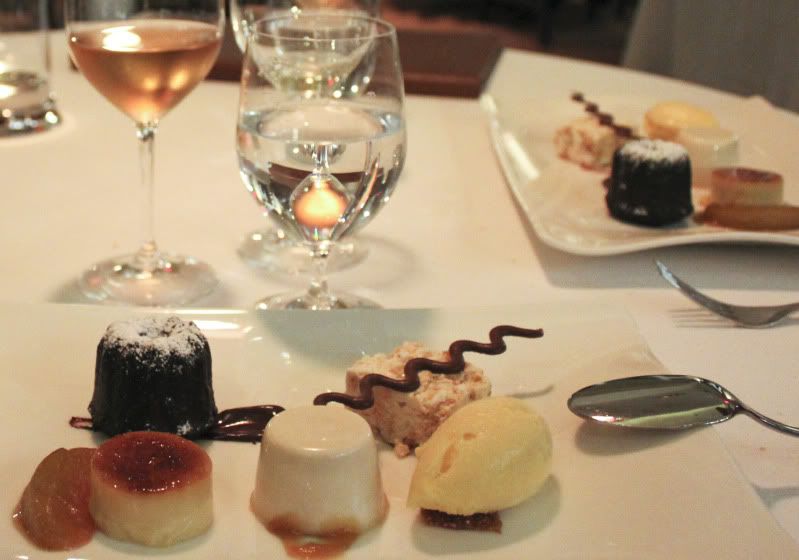 After our meal, we walked across the property to check into our room. The lobby of La Torreta is regal with white marble and minimalistic furnishings. The concierge wasn't just professional, but friendly, and she found us a room with a balcony overlooking the lake and waterpark. Yes, the resort has a kid friendly waterpark complete with slides, their own pool, a lazy river, and a splash area. For us big kids, La Torretta saves the best. A huge swimming pool topped by what seemed to be a heated infinity pool and, drum roll please, a massive hot tub that we had all to ourselves until nearly 3 in the morning. We plucked whiskey from the mini-bar and sipped it while watching the fog roll in over the pool area and then back out again where the moon and stars were visible once again.
When we finally tumbled into bed, the mattress and pillows were so incredibly comfortable that I made a note to myself to find out exactly what kind they were so I could go out and buy them when it's time for a new bed. After a long hard meal and a rigorous evening of drinking and hot-tubbing, it was the best sleep I've had in a long time. The great part is that it was all only an hour away and in the end it really felt like a true getaway.
600 La Torretta Boulevard
Montgomery, TX 77356-5309
(936) 448-4400