A brief review of my history with Nidda...a long time ago I went to my first Thai restaurant, Patu's in the Village, and loved it. Later on down the road, one of Patu's original owner's, Marty Chuenpreecha, opened Bangkok Place in the spot near Erotic Cabaret on Westheimer near Waugh. It wasn't the best place for a restaurant but he did his best. The food was amazing but for some reason the customer base wasn't strong enough to stay open. In comes an interested partner who takes over the place and reopens it as Nidda.

Our family became very close with Marty and his small staff before he moved to California to be with his wife and children who had been living there for a while though he continued to work in Houston. He was so kind and sweet and the chef he had in the kitchen came with him from Patu's, a tiny little Thai lady name Nao. So I was spoiled with their love and delicious authentic meals-- she'd even let me in the kitchen where she prepared the food in a wok large enough for her to take a bath in. So spoiled that after Marty left, I shunned Thai food for several months. When I would finally try it, I was extra critical and couldn't enjoy the meal. Where was the love?

I haven't fully gotten over my first true Thai love but under Nao's tutelage (she stayed on for a while to help the transition) the kitchen at Nidda has started to grow on me. I've been going there for a while now, but usually stuck with my usual, the gang panang with chicken, green beans and carrots. I finally took a leap of faith and ordered the Chu Chee Snapper.
One of my favorite meals with Marty was the Chu Chee Shrimp- a perfectly sweet and pungent 'curry' with lightly battered shrimp and snow peas. The snapper is still prepared the same way and I have to admit that I enjoyed every bite. But I still miss my friend Marty and hold everything Thai to the standards he taught me by.



The kids finally tried something besides Pad Thai. These are the Drunken Noodles and they were good, though I'm not a huge flat noodle fan.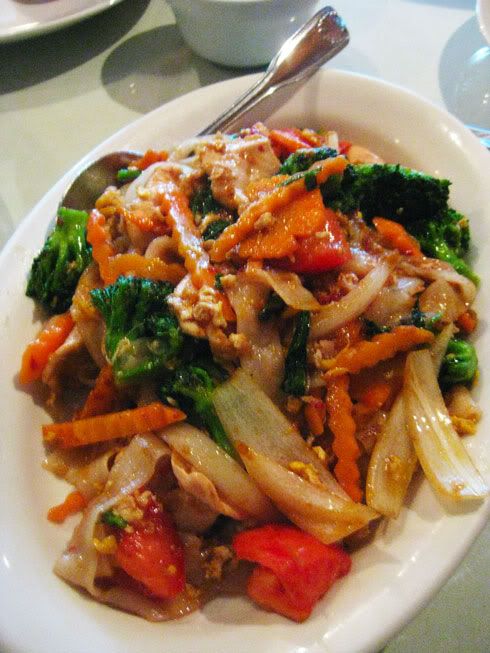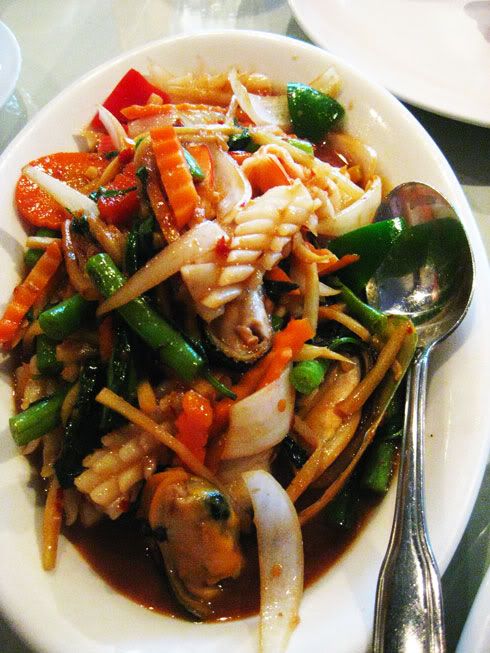 This is the Basil Seafood, my husband's healthy standby.


Tom Yum Soup- It's no tom kha kai but it's tasty nonetheless