By Andrea Afra
Hiding in plain site, Mezban is located in a big shopping center in the Mahatma Gandhi District (did you know the area was recently renamed?) off of Harwin between Hillcroft and the 59 feeder road. The first time we went, there was a party going on in the parking lot complete with a DJ who would spin some records then plug the insurance company that had obviously paid the guy to come out.
Mezban started as a catering company that opened as a restaurant on the side. The main feature is its lunch and dinner buffet of a random variety of Indian and Pakistani dishes as well as a few standards, like the raita, biryani, and fresh baked naan, as well as the standard Texas coleslaw. Yes, coleslaw, and it's quite good.
Most of the dishes were on the milder side of spicy, but they didn't lack in flavor- it only meant less complaining from the kids.
While Mezban doesn't rank at the top of my Indian or Pakistani restaurants, mainly because of the lack of heat, it has a buffet which means you walk in and don't even have to sit down before you get your food. And I like that a lot.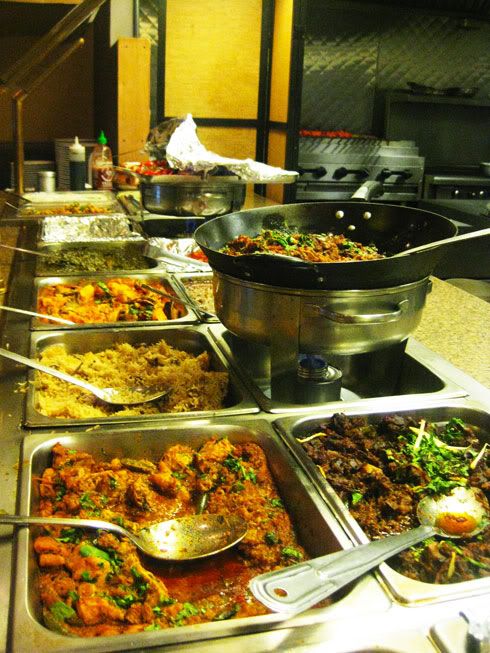 The Buffet at Mezban, an array of meat, rice, and vegetable dishes. There is everything from kofta- meatballs in curry sauce, balti gosht- a mutton dish not unlike pot roast, Frontier chicken, saag paneer, a great cold chickpea salad, and desserts as well.
Hot Naan! Some of the best in town- even without butter, brought fresh to your table when you are seated.
There were no lentils on the buffet one day when we went and when my husband mentioned this to the owner, he quickly offered to bring him some. This is what they brought out, his very own little pan of lentils. Nice!