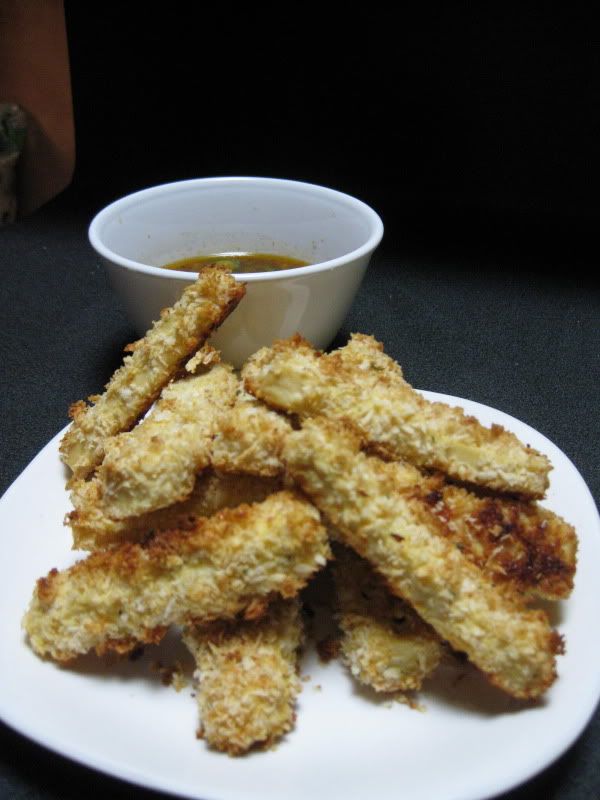 I am still trying to figure out how to make this wiggly, jiggly, pigment challenged, protein by-product more palatable, and while this recipe would be better if the tofu was substituted with, oh let's say, Brie or Chevre or shrimp or chicken or probably just about anything with a little fat and flavor, honestly, it didn't turn out half bad. In fact, I guess it was pretty damn good. I'm just a little reluctant to give up on my anti-tofu stance yet. I am, after all, a Texas T-bone and tri-tip kinda girl at heart. This one's for my ova-lacto-homies, as the recipe does contain an egg for the dredge. The tofu is pictured served with a Panang chicken curry, and they were great dipped in the excess sauce, as well as the other one I threw together with a fish sauce base.




Okay, so. You need:

1 pound firm tofu, cut into strips and drained well

2 cups bread crumbs, either panko, or crackers will do. Cornflakes or crisp rice might be nice too...

2 TSBP cornstarch, more or less

1 egg

1/4 cup of milk or water

1 tsp salt

Seasonings of your choice- I used some garlic powder, dried parsley, salt, fresh ground pepper



Process:

1. Preheat oven to 375F.

2. Spray or smear a baking sheet with a thin coat of oil.

3. First, pat your tofu dry and sprinkle it with the cornstarch.

4. In a bowl, whisk together milk/water, egg, and 1 tsp salt.

5. On a plate or pie dish, toss together the bread crumbs and seasonings.

6. Carefully dip the strips of tofu into the dredge and let the excess drip off.

7. Press a dredged strip into the bread crumb and seasoning mixture. Turn it over and around and press the crumbs into the tofu or else it will fall off. Did the tofu break? I said be careful...

8. Lay the strip on the baking sheet and repeat step six and seven until you are done and your fingers look like the Swamp Thing trying to eat Saltine crackers. You'll see...

9. It puts the pan into the oven. Wait about 20 minutes then start peeking in to see what the browning looks like. I think I left mine in around 35-40 minutes before they got to a nice color.

10. Remove the pan from the oven. Turn off your oven. Serve the tofu sticks with your choice of sauce.

Sauce: May I suggest a Thai lime and fish sauce sauce with a bit of honey and some fresh, thinly sliced shallot or green onion and Thai chilies. Use 1 part fish sauce to 3 parts lime juice, a tbsp of honey, whisk together. Add scallions and chilies. Ta dow. Now go eat your dirty little tofu sticks and love them.